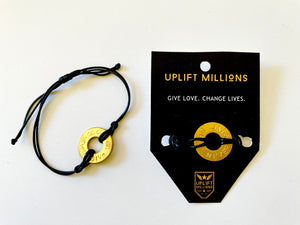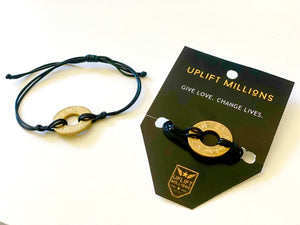 "Never Give Up" Hand-Stamped 1-Of-A-Kind Bracelet
Regular price
Sale price
$25.00
---
On October 4, 2009, my mom died in my arms in the bathroom of her apartment in New York City after her long battle with cancer. It was a night that changed my life forever. Up until nearly the day she passed away, she was always trying to help other women better lives, move forward their careers and inspire them to believe in themselves. 
She showed me what it means to never give up. 
And so I wanted to do something in her memory. 
Life doesn't always feel fair. And sometimes it can feel like our spirit is breaking. That the challenges can almost feel like too much. It is in those moments I remember her. Never give up. 
So I set out to create a single product that would continue her legacy to uplift women. 
Each bracelet:
Was handstamped 1-of-a-kind by a women getting paid above minimum wage (living wages) so she can help provide for her family
A portion of the proceeds will be invested into 0% microloans for women entrepreneurs around the world to help them grow their businesses and provide for their families. As each dollar is paid back, we will just relend that $1 back to another women creating a perpetual cycle of 0% loans so that over 10 years $1 will turn into $10 of 0% loans.
We will plant 1 tree per bracelet to offset the carbon footprint of each bracelet as part of our commitment to regenerative farming and tree planting to draw down carbon emissions. 
Give this bracelet to someone who is going through a tough stretch in life. Maybe that someone is you. Life can be hard. It can ware us down and bring you to the brink of quitting. That is why I created these bracelets. I myself needed this reminder. Never quit. I lost everything in 2016 but never stopped believing in my vision to make the world a better place.
This bracelet is 1 of a kind, just like you. And we use proceeds to fund 0% microloans to women around the world to help them grow their businesses. Every dollar we lend circulates over and over and over, creating a circular economy of perpetual uplift. $1 dollar will turn into $2, $5, $10 of 0% loans over time. So you are literally wearing change that keeps on giving.
Wear this to remind yourself to never give up. No matter what. Your dreams matter. You matter. Life can feel like a lot. And at times you might want to quit on it all, whether you an entrepreneur, a parent, an artist or musician. You may or may not have someone to talk too but you can always look down at your wrist and see this reminder. Keep going. You will never know how close you were to a breakthrough if you give up. One foot in front of the other. You got this. You aren't alone.
We believe that when more money flows through women:
Local economies improve
Education levels improve
Public health gets better
Crime rates go down
Give these as gifts to those who need the beautiful reminder to never give up.