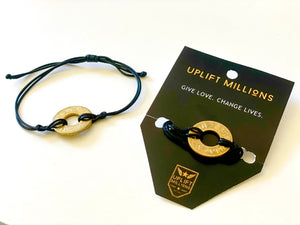 THE "NEVER GIVE UP" BRACELET IS DEDICATED TO ALL THOSE WHO KEEP STRIVING TO CREATE A BETTER LIFT DESPITE LIFE'S SETBACKS.
CAREER CHALLENGES, CANCER, EMOTIONAL ISSUES, SUICIDE, TRAUMA, PTSD, ABUSE, SEXUAL ASSAULT...THE LIST GOES ON...
3 WORDS HELPED GET ME THROUGH...
WEAR IT AS A REMINDER TO NOT LOSE HOPE. YOU MATTER.
AND HERE ARE 3 MORE REASONS TO WEAR THESE WITH PRIDE: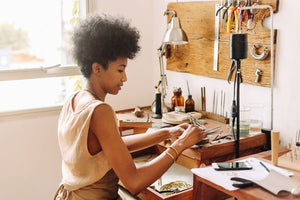 STEP 1: WE GAVE ABOVE-MINIMUM WAGE JOBS TO WOMEN, ESPECIALLY SINGLE MOMS & WOMEN OF COLOR, TO MAKE EACH BRACELET
I PUT OUT ONE POST ON SOCIAL MEDIA AND WAS FLOODED: WORK-FROM-HOME JOB. NO COMMUTE OR ADDITIONAL CHILDCARE. BOOM!
EACH BRACELET IS A MADE BY HAND BY WOMEN IN AMERICA.
BUY NOW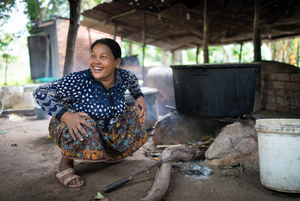 STEP 2: WE FUND 0% INTEREST MICROLOANS FOR WOMEN WORLDWIDE CREATING A PERPETUAL LENDING LOOP (GLOBAL ECONOMIC IMPACT)
1 Billion women do not have equal access to capital to grow their businesses. Your bracelet purchase will fund 0% microloans for women to help them gain financial sovereignty & grow their own businesses. Then we will keep RE-LENDING each $1 lent over and over creating a multiplier effect.
BUY NOW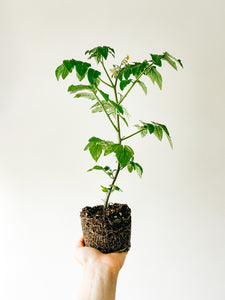 STEP 3: WE PLANT ONE TREE PER BRACELET (GLOBAL CLIMATE IMPACT)
Climate change disproportionately affects women around the world. Uplift Millions will plant 1 tree per bracelet to help offset its carbon footprint. We believe regenerative farming & empowering women are the two most powerful & scalable ways to move the world in a better direction.
GET YOUR BRACELETS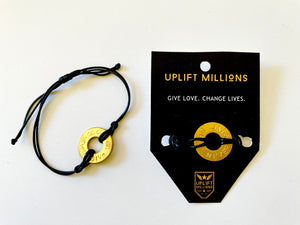 ONE PRODUCT. ONE MESSAGE. ONE MISSION.
NEVER GIVE UP.
Give one to those you love to remind them to never lose hope and know that they matter.
Anxiety, worry, frustration, depression, hurt, and trauma are a silent epidemic.
Or maybe you know someone striving to achieve their dreams but has hit bumps along the way.
Either way, remind them to keep going!
GET YOURS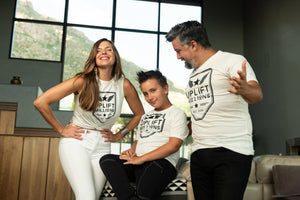 with love from our family to yours
It took 20 years for me to finally crack the code of sustainable impact-driven business. I won't lie, I have had my bumps and bruises along the way but I never gave up on my vision to use business as a vehicle to change the world.
Today, UPLIFT MILLIONS has coached over 500+ service-based entrepreneurs like coaches, consultants and freelancers to help them scale their companies.
-Alok Appadurai, Founder & CEO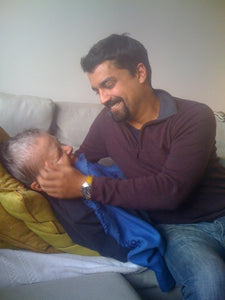 In loving memory of carol a. breckenridge
A hero who led with kindness of spirit. She believed in her dreams and believed that a life well-lived is a life spent uplifting others.
Wear this bracelet and look at it to remind yourself to keep going and Never Give up.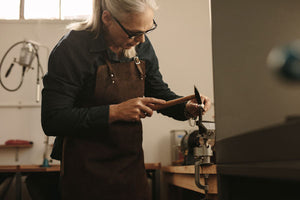 APPLY TO BECOME AN "UPLIFT MILLIONS" MAKER
Women of color & single moms strongly encouraged to apply! Must be detail-oriented and want to make the world a better place.
CLICK HERE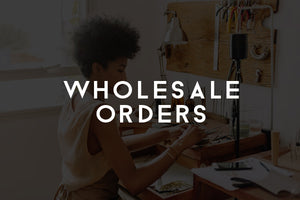 Interested in a Wholesale account?
Have a store, venue or project and want to carry Uplift Millions merch?
APPLY HERE